Grooming Services
Basic price includes a bath and brush, nail clipping, ear cleaning and light trimming (face, feet, tail, feathers)
Full price includes all of the above along with a full haircut to your liking/breed standard and/or deshedding
SMALL (short-haired)
Basic = $30-45 Full = $50-65
Chihuahua
Dachshund
Miniature Pinscher
Italian Greyhound
French Bulldog
Pug
Brussels Griffon
Shiba Inu
SMALL (long-haired)

Basic = $40-55 Full = $60-75
Bichon Frise
Havanese
Maltese
Yorkshire Terrier
Shih Tzu
Toy/Miniature Poodle
West Highland Terrier
Pekingese
Cavalier King Charles Spaniel
Pomeranian
MEDIUM (short-haired)

Basic = $40-55 Full = $60-75
Boxer
Boston Terrier
Beagle
Bulldog
Greyhound
Doberman
Corgi
MEDIUM (long-haired)

Basic = $50-65 Full = $70-85
Airedale
Cocker Spaniel
Miniature Australian Shepard
Wheaten Terrier
Shetland Sheepdog
Setters
Spaniels


LARGE (short-haired)

Basic = $50-65 Full = $70-85+
Labrador Retriever
Rottweiler
Mastiff
Siberian Husky
Pitbull
German Shepard
Weimaraner
LARGE (long-haired)

Basic = $60-75 Full = $80-95+
Golden Retriever
Portuguese Water Dog
Italian Spinone
Samoyed
Chow Chow
Collie
Old English Sheepdog
POODLES & DOODLES

All Grooms = $90-100+
Standard Poodle
Puli
Labradoodle
Goldendoodle
Italian Spinone
Lagotto Romagnolo
EXTRA LARGE DOGS

All Grooms = $90-100+
Bernese Mountain Dog
Swiss Mountain Dog
Great Pyranese
Newfoundland
Saint Bernard
*This is not an extensive list of dog breeds. Please ask for an estimate when we are able to see your pet and its hair type to give you the best quote to fit your needs.
**Price ranges are subject to change depending on the condition of the hair coat. Additional costs will be applied according to extra time needed for dematting
Nail Clipping = $10
Nail Dremmeling = $13
Toothbrushing = $10
Nail and Ear Package = $20
Nail Clip Deluxe = $25
All Cat grooms = $65 and up
Face, Feet and Fanny = $30
Hourly Boarding = $40 (first 2 hours), $15 (each additional hour)
Deshedding = included in the price of the full groom, uses FurMinator brand shampoo and conditioner and a special deshedding tool to remove thick undercoat
Don't forget to ask us about our all-natural shampoos. Also, feel free to ask a groomer to show you how to properly brush your pet to avoid painful mats.
Note: A $20 rescheduling fee will be applied in the case of a No Show.
Please call to cancel within 24 hours if you are unable to keep your appointment.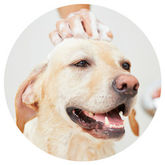 Thera-Clean®
Shampoo therapy is necessary for pets with dermatologic ailments. A pet's coat operates like a magnet for all types of dirt, dander, toxins, fungus, bacterias, and irritants. To receive the optimum benefit from therapeutic shampoos, topical contact time during the course of application is very important. Allowing the shampoo to sit on the skin allows it to get in the skin to provide soothing moisture. Another important step of using dog shampoos is rinsing because surfactants can produce skin irritation when they are not totally removed. Therapeutic shampoo will leave your dog' skin healthy, smooth, pliable, shiny, and manageable.

Teeth Brushing
Protect against bad breath, tooth loss, and gum disease with regular teeth cleaning for a healthy smile.

Sanitary Trim
For long hair doggies, sanitary hair cutting may be needed to cut long fur from around the bum.

Nail Trim
We cut nails to a prudent length, just short of the toenail quick. Nail trimming prevents painful nail cracking or nails breaking.

Haircut
We provide breed-specific haircuts. Cuts feature shampoo, dry, and hair trimmed on their head, paws, and bum.

Full-Service Grooming
Your pet is going to be given a bath, clipped, combed, and beautiful head to toe.

Face Trim
Several pooches need a haircut from around their face. Our groomer will be able to help you identify the perfect style for your dog.

Ear Cleaning
A dog's ears are delicate and vulnerable to infection, excessive wax buildup, and ear mites. Cleaning your pet's ears reduces build-up to help hinder infections and reduce the smell.

Bath & Brush
Our bath service includes shampoo matched for your pets' coat type, leave in conditioner, brush out, nail trimming and filing, and ear cleansing.

Anal Gland Expression
Anal gland expression can help hinder symptoms connected with anal gland irritation. Glands can become infected if liquids are not drained naturally.
What Harbor Pet Customers Are Saying
Happy customers from Greenport areas around Southold, East Marion, Orient, Peconic, Cutchogue, Mattituck, Shelter Island, and Montauk areas near Bridgehampton, Amagansett, East Hampton, Sag Harbor, Sagaponack- and more!
Come visit our pet supply store in Montauk, NY specializing in quality food, treats, and supplies for cats and dogs.